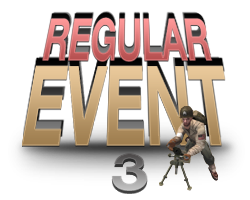 'Regular' Event No. 3!
On Wednesday (January 25th) from

19:00

to

21:00

GMT+1
We've moved the regular events to weekdays now for experimenting!

This time it'll be on a Wednesday (as stated above) and include
HS mode & Gun game
!!
Gun mode works like this:
You start out with Colt/Luger
After 2 kills you will be granted a new weapon
So every 2 kills you'll be given a new weapon
The last weapon is Mortar
The one who kills twice with it wins the map and it ends
Time Table
19:00

LMS

- Flag in the Middle, PacMan, Beerrun Arena & CTF Halo
19:30

Gun game

- Endless Frag, King of the Hill
20:00

HS mode

- ET Headshot 2 & OldBones
20:30

SW NQ

- Supply Depot
20:45

Sniper War

- Sniper Gigant
See you there!!

---
Great job guys! Love that you added HS mod!


Can we know what maps have you choose for endless frag? Valhalla & purefrag in I hope?
---
Posts: 1097
Joined: Fri Jan 29, 2010 1:00
Location: Belgium, ps#5
jeeeeej!

Pom
pi
dom
:)
te
K
no
Dont drink and drive, just smoke and fly !
---
Return to News & Announcements
Who is online
Users browsing this forum: No registered users and 1 guest